Cookson Hills Christian Ministries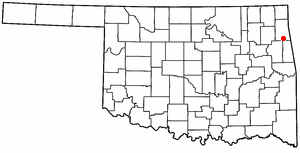 We, a ministry of independent Christian Churches and Churches of Christ, supported by charitable gifts from those churches, individuals, and other organizations, seek to honor Jesus Christ in our ministry to children and families by helping them become and develop as His disciples. We are committed to excellence in providing a Christian environment for children in our care while out of their own homes. We strive to develop healthy child-family relationships, to provide an education that is Christ-centered, and to train and encourage children and their families to live according to the scriptures.
Cookson Hills Christian Ministries is located near Kansas, Oklahoma.
---
"OKMap-doton-Kansas.PNG" by Seth Ilys licensed under the GNU Free Documentation License, Version 1.2.